Today I begin a blog series which I'm calling "College Basketball Greats of the Past." Its purpose is not to celebrate those still-famous players that nobody could ever forget like Paul Pierce or J.J. Redick. It's to celebrate those players that might be forgotten, players whose contributions at the time might have seemed historically insignificant. In other words, the players that make college basketball's world go 'round.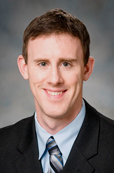 He's Dr. T.J. Pugh now, I think. But at the time he was just "Puuuuuuuuuuugh." He was one of those guys who made it sound like he was getting booed by his own fans, but not in the way that happened to J.R. Giddens.
T.J. Pugh was not a particularly good player. But he wasn't bad, either. He was about as nondescript as a basketball player can be. He was 6-foot-8, 240 pounds, which is the most average possible size for a collegiate power forward. He was from Omaha, Nebraska, which is the most average city in the Midwest. His senior year, he averaged 4.9 points and 4.7 rebounds. He shot just under 50 percent from the field and just under 60 percent from the free-throw line. He blocked half a shot per game.
He was adequate.
This being the late 90s, he wore a baggy t-shirt under his uniform. He was not muscular, but you wouldn't describe him as "lithe" either. I don't think athletic training was the same then as it is now. T.J. Pugh looked kind of like he'd been spotted shuffling his feet along some broken Omaha sidewalk on the way to a Little Ceasar's when Roy Williams drove by and asked him if he'd ever played basketball.
I don't know how stridently Pugh had been recruited. Recruiting information is pretty scarce if you're going back before about 2003. I'm sure Creighton offered. Probably Nebraska too. There certainly was never a sense of, "Oh man, did you hear about this kid from Omaha KU got?"
And in this way, T.J. Pugh represented everything Kansas basketball has been since at the latest 1989. You hear TV analysts say all the time that KU is just loaded up with McDonald's All-Americans, but that has almost never been true over the last 20 years. Kansas usually has one or two, and that's it. Sometimes more, but that's rare. Whether the coach was Williams or Bill Self, this has been the case.
So there is always room for a T.J. Pugh not just on the roster, but in the rotation. It's become a real legacy by now. Pugh passed the torch to Bret Ballard, who passed it to Christian Moody, who passed it to Brady Morningstar.
These are players to whom nothing was given, and from whom nothing was expected.
But here is what happens: A couple of years go by, and NBA player or two comes through the program, and suddenly you find yourself in a position where you have enough great players — shot-makers, drivers, etc. — but what you could really use out there is a guy who knows where to go and how to set a good screen and how to reverse the ball to the third side and will slide his feet on defense and doesn't think he was born to be the hero.
And that's when you take out C.J. Giles and put in Christian Moody, or you start Brady Morningstar instead of Josh Selby.
That was T.J. Pugh. As a senior, he was better than Lester Earl and (probably) drove a much crappier car. Was he great?
Well, not by your standard definition.